Early Preparation and Supplies
Hurricane and tropical storm safety should be taken seriously from the very beginning of hurricane season to ensure that your family and property are prepared.  It is important to know the evacuation routes in your area in case you have to evacuate, especially if your home is near the coast.  You should also have your home inspected to ensure that it is up to code to handle the strong winds of a hurricane.  Perhaps the most important preparation for hurricane season is putting together a supply kit so you and your family have everything you need to make it through the storm.  A storm supply kit should include the following:
•Non-perishable foods such as soups, cereal, and dry goods as well as a can opener
•Blankets, pillows, and sleeping bags
•Flashlight and batteries
•Gallons of water
•Toiletries such as toilet paper, toothbrushes, shampoo, etc.
•Family prescriptions and first-aid kits
•Important documents such as birth certificates, credit cards, cash, social security cards, etc.
•Tools
What to do After a Hurricane
The storm has passed. What now?
•When power returns to your home, do not start all major appliances at once. Turn them on gradually to reduce damage to sensitive equipment.
•Avoid downed, damaged or loose power lines and report them immediately to the local police and fire department, as well as to the local transmission and distribution services provider in your area.
•Even if you have ventilation, never use a generator indoors. This includes garages, basements and crawlspaces. Exhaust fumes contain high levels of carbon monoxide which can be deadly if inhaled. Even when left outside, keep generators away from doors and windows and at least 10 feet away from your home. Also, allow your generator to cool off before refilling it with gas – splashing gas on hot generator components can lead to a fire.
•Do not use electrical or gas appliances that have been wet, and do not turn on damaged appliances because of the hazards of electric shock or fire.
•Never use charcoal indoors because burning charcoal produces high levels of carbon monoxide that can reach lethal levels in enclosed spaces.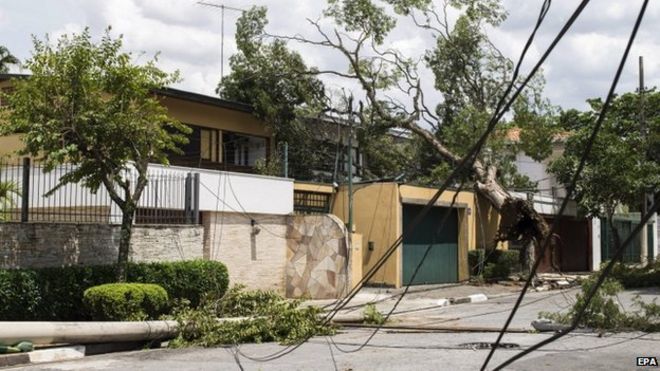 Aftermath and Returning Home
If you spent the storm taking shelter in your home, you should remain inside until the storm has passed completely.  If your family was forced to evacuate, make sure the municipal government has deemed it safe to return as floods, mud slides, downed power lines, property damage, and other resulting disasters can continue to make the area dangerous after the storm.  It is just as important to exercise safety precautions in the aftermath of a hurricane as it is during the storm and it may take a while for your home or area to return to normal.  In the meantime, try to stay safe in your home and use your emergency supplies if necessary.
Hurricanes vary widely in strength and have the potential to cause all types of problems from damage to your home to widespread flooding and destruction that can disrupt entire communities.  Following these safety tips will help you keep your family and your property safe in the event of a hurricane.  If you experience significant property damage as the result of a hurricane, make sure you call P.R.S. of Tampa Bay immediately to help repair the damage.  These professionals will stabilize your home or building to prevent further damage and repair the home quickly so you can resume your normal life.
Further Damage
Unless you take efficient preventive measures immediately after a disaster, the excessive moisture, smoke particles, soot, etc. will continue to damage your household items and materials. With time, the damage will spread throughout your entire property and become irreversible.
You should also have in mind that rain, high winds, or other unfavorable weather conditions may easily inflict further damage to your home or commercial building if it has already been compromised by a disaster (broken roof, missing doors or windows, cracked walls, etc.) and left unattended. So, you are strongly advised to clear the damage as soon as possible after an emergency and protect your home against the whims of the weather, possible burglar attempts, and other potential misfortunes.
To read more click here.